I finally proved it. Carpet cleaners really do make carpet dirtier. Soap residue is a dirt magnet! But don't worry I also found a solution.
I always suspected it. I am an expert on dirty carpets. At one point in our family had 7 children in a 1200 square foot home with light beige carpet. The more we ran the cleaner the dirtier the carpet got. It looked more gray than beige.  I had to clean the carpet weekly!
This year, I purchased the Bissell Spotbot to take care of kid spills and puppy accidents.
The Good News
Easy to use: (unlike another spot cleaner I had you had to be a engineer to fill it with solution) Simply fill the cup with water and solution and slip in place.
Hands Free: Set it on the spot, push a button and walk away. It does the scrubbing for you.
Takes the stains out: There are two settings. 1. Set in stains 2. Surface stains. It works great.
The Bad News
It cleans so well, used on a dirty carpet, you'll see circles that are cleaner than the rest of the carpet.  This is bad news unless you like having six-inch clean circles spotting your room.
Once this circle appeared I realized how dirty the carpet really was and it motivated me to rent a rug cleaner and clean the whole room. Maybe that is good news??
Here is where my theory is proven: Below is an area I cleaned with the Spotbot one month ago.
Theory proven! The area cleaned leaves soap residue and becomes a dirt magnet!
Can I count this as a homeschool science experiment?
The Solution
My BF Lynne came up with the solution and blogged about it. Read Lynne's  post here.
After leaning the room with the rug cleaning solution clean it again with a vinegar water solution.  Rent a shampoo machine that cleans with water. Mix about a cup vinegar per  gallon of water and clean according to directions. The vinegar pulls out the old shampoo soap and cleans the carpet.
Tackle it Tuesday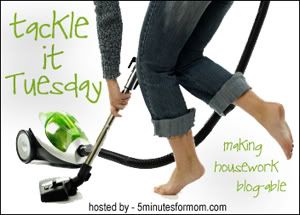 This is a Tackle it Tuesday post where you tackle something in your home and share with other bloggers. Tackle Tuesdays are FUN!
If feels great to get something accomplished and share it with others. Find out more about Tackle It Tuesday here.
What have you tackled in your home this week?
P.S. Lynne also has GREAT coupon tips on her blog Seeking His Face.  She is an amazing bargain hunter and a coupon junkie. She is also a little bit nutty, hysterically funny, and a great friend through thick and thin. Her motto, "If it's cheap or free–it's me!" Visit her blog.